So, budget season is approaching, and you're new on the board. Are there any requirements around the budget? Yes, of course there are. Florida Statutes define what must be in the budget, and most people are aware of the listing of income and expenses that is in the usual budget. The Florida Administrative Code also defines how the components of the budget, and how it should be presented.
So what are all the required elements:
Common Operating Income and expenses (the P&L portion that we're all accustomed to seeing)
Reserve Schedule
The above expenses must be displayed in total, and on a per unit basis, based upon the applicable formula from your documents
These elements are laid out in the statutes, in very vague terms. For example, common operating expenses are defined as including the "expenses of the operation, maintenance, repair, replacement, or protection of the common elements and association property, costs of carrying out the powers and duties of the association, and any other expense, whether or not included in the foregoing, designated as common expense by this chapter, the declaration, the documents creating the association, or the bylaws." Isn't that helpful? Translated, that is saying that all the expenses to run the association and maintain the common property should be listed as line items in the budget.
So let's break down each section.
Operating Income & Expenses:
Income: Each association will have different types of miscellaneous revenue sources, but the more common include the following.
Maintenance fees (this is a calculation: total expenses – other income)
Rental Income
Application & Estoppel fees
Laundry income
Misc other
Expenses:
Administrative & Overhead

Professional fees: Management, accounting, legal, etc.
Office expenses/supplies
Postage
Fees payable to the division
Insurance
Security
Bad debt

Maintenance

Building repairs
Electrical/plumbing expenses
Pool maintenance
Landscaping maintenance
Roof repairs

Utilities

Electricity
Water
Gas
Trash/Recycling
Obviously, some Associations will have a lot of detail lines, and others only a few, based upon the size of the association and the amenities offered. The board estimates the expected costs of each line item based upon historical information and contracts. For example, if the pool maintenance contract is $250 a month, then the pool line item needs to be at least that (plus more for repairs.) Other items, such as electric repair, is generally an estimate based upon prior history. Remember, these funds are not restricted, so money allocated in one line can be used for another if needed.
Reserves:
Ch 718 and 719 specifically states that reserves "must include, but are not limited to, roof replacement, building painting, and pavement resurfacing, regardless of the amount of deferred maintenance expense or replacement cost, and any other item that has a deferred maintenance expense or replacement cost that exceeds $10,000." The formula specified by law to determine full funding is (Expected Cost of Replacement – Year End Funds Accumulated for that item) / remaining estimated life. So, how do you know any of that? A Reserve Study.
A Reserve Study is generally performed by an engineer or architect, and it analyzes all common physical components and provides a funding plan that can be included in the budget. Although no longer required by law, a reserve study is strongly recommended.
So what has to be in the budget? A schedule of all required and optional reserve components that includes the component name, expected life, remaining life, estimated cost to replace, current funding balance, and the calculated fully funded annual projection. It might look something like this: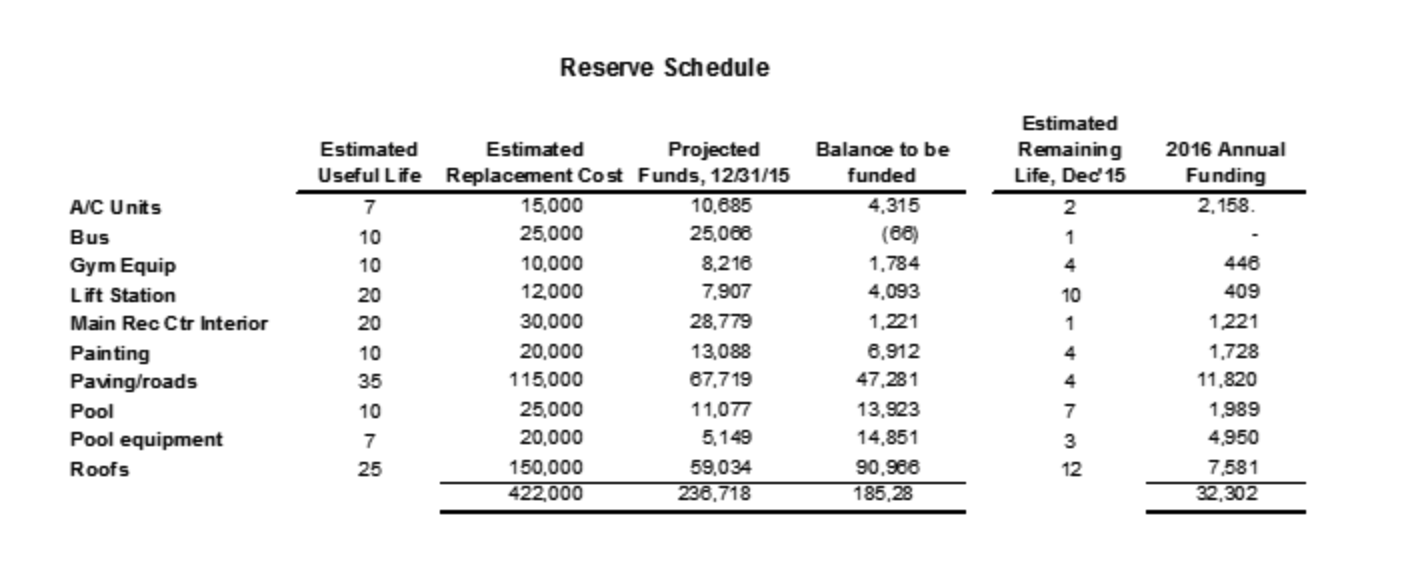 Unit owners do have the option to vote to reduce or waive the reserve component. Please note, however, that the vote must be taken each year, and before the start of the budget year. It is also a vote of the unit owners, not the board, and the proxy must use specific language as outlined in the statute.
HOA? They are slightly different. Reserve items are not required by statute but can be elected by the ownership. If the unit owners do vote to implement reserves, then the HOA must follow the same procedure as condos and co-ops.
Last thing to know: funds collected under the above method are specifically allocated for the purpose for which they were collected and cannot be used for other purposes without a majority vote of the unit owners. Another option: you may pool reserves into a larger categories, or even one pool. This is a complicate decision, and not under discussion here. See my article on To Pool or Not to Pool.
Other Required Elements
Ok, so now your have your two major elements of the budget: Operating Income & Expenses and the Reserve Schedule. What else is needed?
The effective dates of the budget must be specified, including beginning and ending dates: e.g. "January 1 – December 31, 2018" not "Calendar Year ending December 31, 2018" or the simple "2018 Budget" that I've seen
Number of units and ownership percentages
Maintenance fees (the total cost for operations and reserve items) must be listed by unit type, and compared to last year.
No, maintenance CANNOT be rounded off to whole dollars (as it appears above!). If you round off, it no longer represents the ownership percent calculation as required by law. Pennies must be used!
In closing
This is a process that takes time, and more time is needed to actually approve the budget (14 day mailing required). Additionally, you need lead time if you order coupon books for your owners, so the vote really should take place no later than mid-November. The entire process should start in September, at the latest.